Setting up and launching your Post purchase campaigns on your Shopify store.
This page will help you set your BYG app on Shopify and launch your first campaign. The process takes about 3 mins and does not require any technical knowledge. If you have any specific question or you need help, please don't hesitate to reach out to us in the chat or
Schedule an onboarding session
​
BYG can be installed from Shopify's app store or you can
Start here
by simply entering your Shopify store URL and then the installation process will guide you.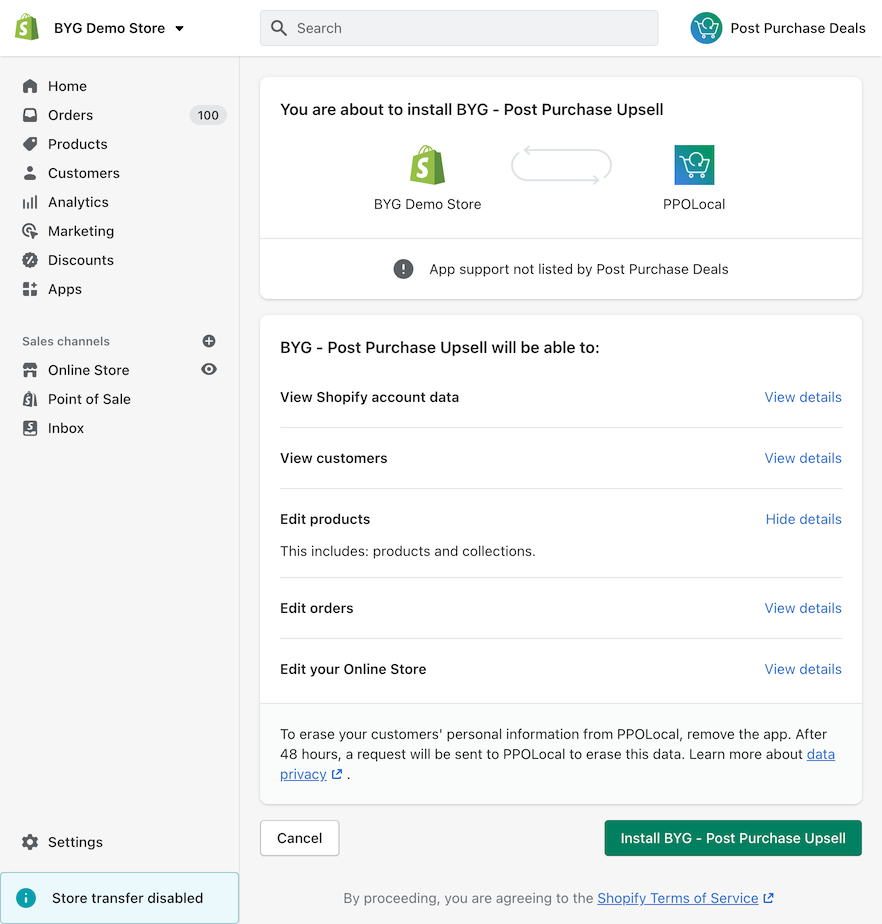 Shopify installation permission screen
Upon installation BYG will ask you to authorize it allow access to your Shopify store. The authorization page will also show you permissions we ask for, they are:
View Shopify account data: This permission grants us access to your contact details like your store email, name etc.

View customers: This permission is required to fetch the customer data so we can check if the current customer is eligible for a given offer.

Edit products: This allows us to fetch product info from your Shopify store so we can fetch the offer product and it's variants.

Edit orders: This permission allows us to create orders with discounts. This is how we create an order on behalf of the customer when they accept an offer.

Edit your Online Store: This permission allows us to add our script to the Thank you/Order status page. Another benefit of this is that if you ever choose to uninstall BYG, the script tag will automatically be removed and there won't be any code left on your theme.
The next step would be to accept charges. BYG uses Shopify's billing APIs so you don't have to pay multiple invoices or enter your payment details everywhere. Shopify collects our app's charges on our behalf and sends you invoice with our charge details.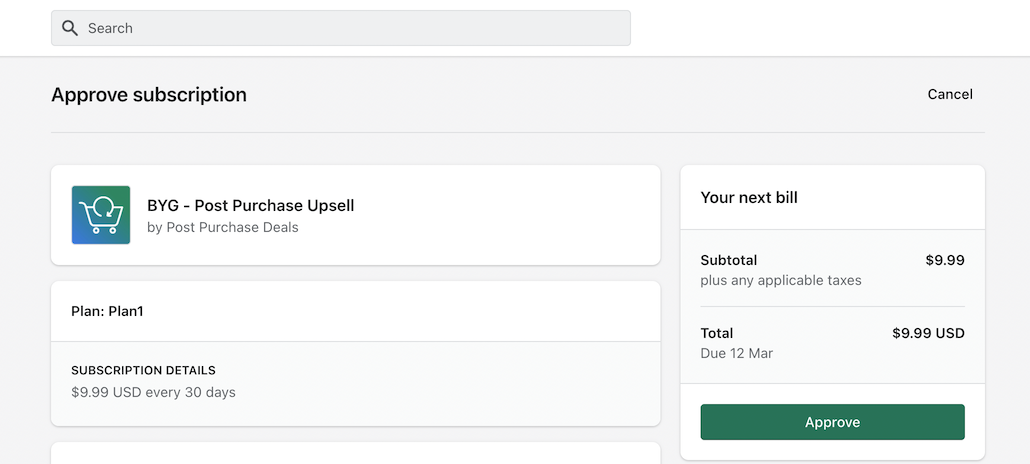 Shopify installation charge screen
Once the charges are accepted, your installation should be successful and you'd be taken to the onboarding screen.